Made use of high-quality ingredients. Made with kindness. Our all-natural promise – absolutely no preservatives or artificial colors are added.
ISO22000 and HACCP internationally certified, and examined by National Pingtung University of Science and Technology for food safety, all of our products undergo stringent manufacturing processes so our customers can shop with confidence.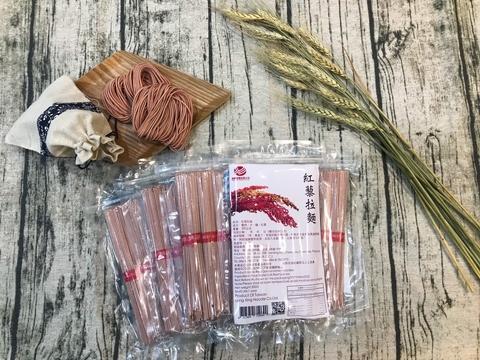 Made use of shelled Taiwan red quinoa, which retains more betanin and dietary fiber.
Protein content is as high as 14%, and dietary fiber is also as high as 14%. It also contains various kinds of minerals, and is especially rich in calcium; iron and zinc are also abundant. Other elements include the important selenium and germanium. It also contains a high quantity of nine different essential amino acids that human bodies are not capable to form by themselves, which can prompt the formation of collagen and help the making of antibody, hormone, and enzyme. Putting large amounts of this superior quality grain into wheat and make them into noodles, they then become a gourmet product for a healthy daily diet, the perfect choice for vegetarians, frail people, growing children, and women on a lean diet.